50s Television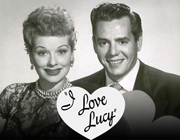 My husband and I are one of four couples who trade off hosting dinner parties. We chose the theme of 50s television to make it even more fun.

I sent out cards with stills from the TV show "I Love Lucy" on the cover instead of calling like I usually did. Inside was the date and time of the party and a little note asking everyone to come as their favorite character from a 1950s television show. Marshall and I were going to be Lucy and Ricky Ricardo.

Marshall and I set the dining room table with a white, lace table cloth with our best plates, glasses and silverware perfectly set. It looked like the perfect 50's dinner table. I even put a little basket of fruit and dried flowers on the table for a centerpiece.

We bought frames and left the sample pictures in them and hung them on the walls. The sample pictures were perfect because they looked so cheesy and artificial.

For dinner, I cooked a pot roast with carrots. I served peas, rolls with real butter, mashed potatoes with gravy for side dishes. There was, milk, juice, beer or wine to drink.

Marshall set our camera up on a tripod and rented a big standee of an old fashioned television. The screen was cut out so it would frame anyone holding it and standing behind the standee. He took a practice black and white picture of me, wearing my Lucy red wig and lipstick, button-up white shirt and Capri trousers.

Two by two, the couples started to arrive. There was Superman and Lois Lane; Frankie and Annette complete with mouse ears; the Lone Ranger and Tonto; Ralph and Alice. Everyone's costumes looked great! Marshall took their pictures in the standee and then Tonto took a picture of Marshall and me. We had them developed, framed and sent them to each couple as thank you gifts.

A CD of early television show theme songs played in the background as we ate dinner and chatted. Afterwards, we played a game of Television Trivial Pursuit. It was so much fun! Almost every question sparked a conversation about the show or reminded us of when we were little kids. I served apple pie a la mode and coffee for dessert.

Around 11:00, we turned on a cable classic television channel and watched "I Love Lucy", "Dragnet", "Superman" and "The Lone Ranger". Everyone's eyes were glued to the TV, just like when we were kids! I We kept watching until 2:00 a.m. .

When we realized what time it was, our guests said good-bye and headed home. We left the dishes in the sink and went to bed. When I got up the next day, I realized how much it looked like my grandmother's dining room. I quickly put everything back to the way it was and immediately felt younger. The evening was definitely a memorable one.
Related Categories
Back