African Safari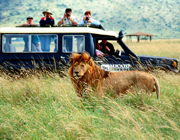 My family is just my Mom and the three of us kids so you might think it would be easy for us easy for us to get together for a reunion. Wrong! My brother, Ed, lives in Florida and sells real estate, Susan is an Archeologist and travels the world, And I manage a college bookstore in Arizona. One reason or another, has kept us from all getting together for almost seven years. Ed had finally decided enough was enough and planned a family reunion!

The first I heard about it was when a video tape arrived. My brother Ed was dressed like a big game hunter. He told me that he knew a way we would all make time to get together so he had done some research and found some travel agents who offered packaged deals for African safaris at reduced rates. After his presentation I was convinced after a family conference we booked our trip for early June.

The travel agent took care of everything. Booking the flight, hotel reservations and arranged for the tour company jeep to pick us up from the airport the day we arrived.

The safari was still weeks away, but I got really excited about it and started doing some research on the Internet line about the area in Zimbabwe we would be seeing. I found some helpful information listing good things to bring and it turned into a shopping spree. I bought a vest with lots of pockets, several pairs of cargo pants, a pith helmet, insect repellent, and a telephoto lense for my camera as well as a tough canvas for carring the camera and other items.

The first leg of the journey was New York. Ed, Susan, mom and I spent a night there and even got tickets to see the new broadway play. The next morning we were on the flight to Zimbabwe.

Our plane landed in Harare at around in the afternoon, but it was somewhere around 3:30 in the morning in Arizona. Simon, one of the tour guides met us at the gate, he had left the resort before dawn and was anxious to get back on the road so we would be back in time for dinner. He was really friendly and answered all our questions while helping load all of our luggage into the jeep.

The ride was a long and dusty one, but everyone had used up at least one roll of film by the time we arrived. The compound was once a plantaion. The main building had been built in 1890 and had been converted into a hotel in the 1920's. It was very beautiful and reminded me of some of the pictures of stately Southern mansions I had seen on the covers of travel magazines.

More people came out when the jeep drove up and helped carry our luggage inside and showed us to our rooms. Most of them were natives and spoke to eachother in their native language and spoke English with British accents. Everyone was smiling and so cheerful, we immediatly felt at home.

Dinner was served every evening in the main dining room. All the guests staying at the hotel sat around a huge mahogany table. The meal was a hearty roast with mashed potatoes, green beans and wine. During dinner all the guests had a chance to get to know eachother, share travel experiences and talk about the safari the next morning. We only managed to stay awake a couple hours after dinner before the and jet lag caught up to us and we turned in for the night.

A continental breakfast of pastry danishes, juice and coffee was set up on the mahogany table in the dining room the next morning. The guests taking the safari ate and chatted while we waited for our guide to arrive.

Everyone climbed into the jeep as soon as Simon pulled up and we set out for an exciting day on the African savanna. The safari was everything that we could have expected and more. I must have used up fifteen rolls of film over the five days of our stay. We also visited Victoria Falls which was even more spectacular in person than it was in the pictures I've seen.

The best part of the trip was being with my family again. On our last night in Africa we promised not to let another seven years pass before we did something like this again. I'm interested in going to New Zealand, but I think Mom and Susan have their hearts set on visiting Ireland and doing little geneological research.
Related Categories
Back