Camp Fire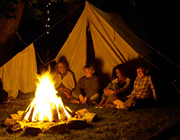 should be a time to have fun like a child again
Event Types
Wedding, Corporate Event, Halloween, Valentine's Day, Anniversary, Dinner Party, Prom, Reunion
Age Groups
Wedding, Corporate Event, Halloween, Valentine's Day, Anniversary, Dinner Party, Prom, Reunion
Setup
A Camp Fire party can take place anywhere such as the beach, campground or simply your back yard.
Decor
sit on blankets, or beach chairs.
Dress code
Causally but warmly
Music
Sing-along, play guitar, with songs that are popular and most people would know.
Food/Drinks
A Camp Fire party can be set up as a Potluck with Picnic items, fried chicken, potato salad, corn on the cob, Hamburgers, Hot dogs, Baked potatoes, Marshmallows, s'mores. For Drinks: Coffee, Hot Chocolate, sodas, and different types of juices. Desserts: Cake or Cookies.
Tips
Scavenger hunt, sing songs, sing-a-long, play ukele or guitar, campfire songs. Beach, Park, back yard. Take home a fish and photo or a CD
Related Categories
Back