Cowboys & Indians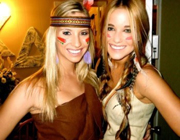 Wild west can be around the campfire, or pow wow w/Indians or herding cattle or battle Indians vs. cavalry
Event Types
Adults, Kids, Reunion, Corporate event, Bar/Bat Mitzvah
Age Groups
Adults, Kids, Reunion, Corporate event, Bar/Bat Mitzvah
Setup
Benches, BBQ equipment, umbrellas.
Decor
Cactus, Red and White Bandana table cloth, Hay for decoration, Hats.
Dress code
Dress in costumes: Ranch hands, Cowboys, Pioneers, Indians, Horse Soldiers.
Music
Guitar, Harmonica players. Sing cowboy and western songs around campfire.
Food/Drinks
Cook on a campfire: hot dogs, marshmallows, Chile & beans, BBQ meats, baked potatoes, corn on cob, flapjacks on a metal drum.
Tips
Guest take home a scarf or Indian feather . Get a photo in action.
Related Categories
Back