Leather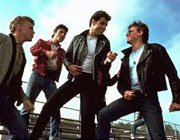 When I found out the symbol for a tenth wedding anniversary was leather I was not sure what gift I could get for my husband that he would like. We had been talking about buying a piece of property, building a house and maybe having a couple of horses. I had never ridden, but Seth had been on his college's rodeo team. I decided to surprise him by having a pair of custom made boots made from the old warn out ones I wouldn't let him wear in public any more. I boxed up his old boots and sent them to the shoemaker without Seth knowing. Little did I know he was planning a surprise of his own.

The morning of our anniversary, Seth woke me up with spray of Chaps cologne. He brought out some bags with the name of a western wear store on them and put them on the bed. Inside was a pair of brand new jeans, a western shirt, boots and a gray felt cowboy hat with a silver and turquoise hat band. I was speechless. He told me to hurry up and get dressed or we were going to be late.

"Late for what?" I asked, but he told me it was a surprise. I got dressed and so did Seth, but when he went to get his favorite boots out of the closet, he found them missing. "Tammy, what happened to my boots?" He looked at me accusingly. "You better get a good lawyer if you threw them out."

I laughed and told him the boots were safe, but where they were was part of my surprise to him. He looked puzzled, and put on another pair of boots. I could see he was missing his favorite boots, but I knew he would love the new ones.

Seth didn't say a word as he drove the truck out of the city and into the country. We pulled into a horse ranch an hour later and he parked the truck under a large oak tree. He led me around the back of a barn where a western riding instructor was waiting with two beautiful horses. Mine was light gray, Jack was his name. The teacher explained a few safety rules to me then helped me mount. He told me Jack was a school horse and was very calm and patient. Seth took . pictures of my hour long lesson with a disposable camera. At first I couldn't get Jack to do anything the teacher instructed me to do. Once Jack stopped and started eating a bush on the otherside of the railing. I tapped Jake too hard with my legs and he started trotting. I thought I was going to bounce out of the saddle. Jack stopped the instant the instructor said, "Whoa."

My legs were stiff at the end of my lesson. Though I was sore, I liked riding. Seth took more pictures of me feeding Jack treats. I never knew horses were so cute or had noses like velvet. If Seth and I did get a ranch I wanted a horse just like Jack. I watched Seth's lesson and he made it look easy. His horse walked, trotted and cantered just when he told him to. After his lesson was over we went to look at some ranches and even some horses that were for sale.

We had an early dinner at a steak house. The Porterhouse steaks were great. The stuffed baked potatoes, cole slaw and corn on the cob were good too. Seth ordered a bottle of their best red wine. When the waiter found out we were celebrating our tenth anniversary he brought us a huge, chocolate sundae with a candle in it for dessert, compliments of the house. We left absolutely stuffed!

When we got home I showered and came out wearing a sexy, leather teddy I had bought at a lingerie store to surprise Seth. Our perfect day became a perfect night. Seth's boots arrived a week later and he loved them. He told me the only way the next ten years could be better than the last was spending them together on our ranch!
Related Categories
Back