Tennis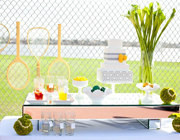 As my sister's 20th wedding anniversary approached, she and my brother-in-law decided they wanted to have a party, but they didn't know what kind. That's easy, I told her. What's the one thing (besides your children) you and Jim are most passionate about? Well, she said, tennis, I guess. Exactly! I said. And I'll help you throw a great tennis party.

We thought a "brunch at the club" would be fun. There is a community tennis court in the neighborhood where my sister lives and we were able to reserve it for our Sunday gathering. We decided we would rent tents from a rental company and tent the court for shade. This would give us a lot of space for the event and what better setting for a tennis themed party than a tennis court?

For invitations we bought tennis balls and wrote the party particulars right on the ball with a black permanent marker. We asked friends and family to join us for brunch in honor of "Debbie and Jim's Love Match." We also wrote we would be serving up some fun and hoped everyone would bring their game shoes, club attire requested. We mailed the tennis balls in boxes.

On the day of the party my sister and I headed to the court early to meet the rental delivery truck. The deliveryman set up two large tents, one on either side of the net. We put five round tables for ten under each tent. We configured them so that one table was in the middle and the four others were around it. We put white folding chairs around the four outside tables only, leaving the center tables free – they were going to be used for food. A podium with microphone was placed at the net. And we put two ping pong tables (one was hers, one was mine) for some table tennis play at the back of the court.

We put white floor length tablecloths on all the tables. Debbie chose a lime green crinkled satin tablecloth to go over the white, that hung half way down. For centerpieces, we bought tall cylinder glass vases and filled them with large daisies. Each place setting consisted of a white plate with a scalloped edge, yellow (to match the daisies) linen napkins and silverware with a pearly white inlay in the handle. The stemware included large water goblets and champagne flutes for mimosa. On the back of the chairs we hung terry cloth sun visors that Debbie had embroidered with each guests name. They were white with yellow embroidery for the women and green for the men. These would serve as both the place card and party favor.

Along the net we leaned tennis racquets and in several spaces in the net, stuck tennis balls. At the entrance to the tennis court, we put a huge green and white balloon arc that was made and delivered by a local balloon company. And lastly, my sister hired a photographer to take pictures during the party.

We ran back home (I brought my things to Debbie's) and changed into our tennis attire. Jim had gotten himself and the kids ready and we all made our way back to the tennis court. We were greeted by the caterer who had all of the party platters ready for delivery. On each of the center round tables were the same platters: shrimp cocktail, vegetables and dip, fruit, sushi, deli meats and cheeses, croissants, muffins and baby bagels with cream cheese, butter and jams. The caterer set up a bar to one side of the net and brought a large umbrella for shade. Pitchers of ice water and mimosa were placed on all of the tables.

Without a moment to spare, the first guests arrived – my family, our mom and dad, and younger brother with his family. We took several pictures, all of us in our tennis whites, then greeted friends as they began to enter the court.

First on the agenda was lunch and everyone found their visor and sat down. My brother-in-law went to the podium and thanked us all for coming. He told everyone to take their plate and help themselves to the food on the center tables.. The food was delicious and while we ate, the bartender came around and gave the kids fruity drinks with bright colored swizzle sticks.

While the adults talked after lunch, the kids had a little table tennis tournament. We had also set up a tossing game where kids had to throw a tennis ball into a bucket. This kept them busy while more speeches were given. I got up and spoke about what a great doubles team (on and off the court) Debbie and Jim were and when it came to love, they had it aced. My dad talked about how proud he was of them and that they were a match made in heaven. Then both Debbie and Jim got up. I of course started crying before they even said a word, but when Jim presented Debbie with a beautiful tennis bracelet as an anniversary gift, I wasn't alone. It got better, though, when Debbie presented Jim with tickets to the U.S. Open in New York. We all applauded and congratulated the wonderful couple.

Dessert was served next. A gigantic cake decorated like a tennis court was wheeled out. On it was written, "The score is Love-Love…Happy Anniversary." It was a perfect ending to a great party. When all the guests had left my sister came up to me and handed me an envelope. A thank you, she said. It was tickets to join her and Jim in New York. I was so excited that I made quite a racket.
Related Categories
Back