Train Ride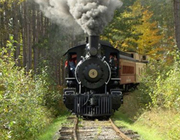 Kenny, my six week-old son, loves to take rides in the car. Its the best way to get him to take a nap. He's a fussy boy, but I love him. To honor Kenny for his Briss, my husband Rick and I planned the event to take place not in a car, but on a train.

The invitations I sent out, were shaped like locomotives. In all, there would be twelve adults and two other children on board. I informed everyone that we would meet at Union Station in downtown D.C. at 10:30. We reserved the dining car for the 11:00 train heading southbound for one hour. We would disembark in Roanoke, Virginia, look around a little and get on board for the journey home.

The train only stops for about five minutes at each station before rolling out. So the circumcision had to be planned in advance. The rabbi recited the blessing before the train arrived at its first stop. As soon as the train came to a complete stop, he quickly performed the circumcision. The rabbi's timing was impeccable, but Kenny was understandably pretty unhappy it. He was about to launch into a wail, but the train started to move just then and he settled; cooing like a dove!

The constant rocking of the train soon lulled Kenny to sleep and the rest of us chose a selection from the dining car's lunch menu. A glass of wine was served with the meal.

It was nice to get out into the country for a little while in Roanoke. We had about a half-hour to look around before the northbound train arrived, so we went to look at some of the houses nearby. Many were built in the early 1800s and have been restored. It was a lovely spot to take photographs. The historical society makes sure the owners take excellent care of Roanoke's old houses and gardens.

On the way back, we all squeezed into a state room. Kenny slept most of the time. Every gift was either something to do with cars or trains. Andy, his godfather, gave him a train mobile to hang above his crib.

Kenny woke and started crying as we stepped off the train at Union Station. He reached out for the hat of the attendant who helped me step down. He put it on Kenny's head and Rick took a picture of his son wearing it. Everyone loved the train ride as well. I hadn't been on a train in years and I'd forgotten what a relaxing way it is to travel.

Related Categories
Back