Wine Tasting Tour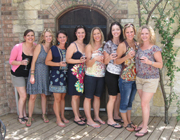 As usual, this Secretary's Day, my boss sent a bouquet of flowers to each of the girls in his department. At the end of the day he told us he needed all of us to come in on Saturday for a special project. He said to dress casual and he did not expect the project keep us past three in the afternoon. Of course, we all were annoyed, but what could we do? Little did we know he had planned something fun.

I was not the least bit suspicious when I saw the black limo parked in the lot. In fact, I was a bit annoyed. Our boss usually took a limo to the airport when he left on business trips. No doubt he would be only staying long enough to explain the project then off to enjoy the beautiful spring day while we were stuck inside working. Our boss came in just as I sat down at my desk. He was carrying a dozen red roses and a bottle of Champagne.

"Come on girls, let's go." He handed out a rose to each of us then led us out of the office to the limo. It didn't take long to figure out the Saturday "overtime" was a clever ruse to get us all to the office for this surprise.

"Where are we going?" Samantha asked as our boss climbed in. "Or is it a surprise?"
All he would say was the limo was taking us on a tour of local wineries. He opened the bottle and poured us each a glass. We sat back, relaxed, sipped Champagne, and chatting about the clever way our boss had surprised us. Once we left the city it was only an hour until we were in wine country.

Our first stop was at a quaint restaurant specializing in the cuisine of the French countryside. The food was delicious, but the dessert was even better. After lunch we piled back into the limo and the driver took us to several wineries. They all were very good by the time we had visited them all I had purchased several bottles of wine.

Our last stop was at a dusty little field. At first we thought the driver was lost, but our boss hopped out and we followed him. That was when we saw the brightly colored hot air balloons. There were too many in our group to ride in one balloon, so we went up separately. I had never ridden in a hot air balloon before and thought it might be scary, but it was really fun. The black limo looked more like a toy as we rose, but I felt very secure and the view was gorgeous.

After the balloon ride we climbed back into the limo took us back to work. All of us agreed we had a great time and a great boss.

Back