A Midsummer Nights Dream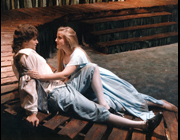 My brother's friends wanted to surprise Kevin by throwing him an unforgettable 30th birthday party. Kevin seems like a regular football-watching, beer-drinking, guy, but they knew better than think that was all there was to him so, they called me and asked if Kevin had some secret hobby he would never tell his buddies about that they could use to create a party theme. I told them, in college, Kevin really got into Shakespeare and that he still had a book of his complete works somewhere buried under his computer manuals and Playboy magazines.

Kevin's buddies, their girlfriends and I got together one night and read some of the plays looking for one that we could use. There were many that were excellent, but we found only one we felt was perfect one for a milestone birthday -- A Midsummer Night's Dream. It is a comedy about love, sexual madness, lust, honour, revenge and mischievous, fairies who liked to interfering in everyones personal business.

Two months before Kevin's birthday, we sent out invitations to everyone we could think of. We were sure to include all the important details including not to mention the party to Kevin and the party would last all night. Those who said they'd come were told to arrive before sunset at the warehouse we rented, dress as seductive fairies, and to bring a pillow.

There was a small office on the corner of the warehouse where the guests left all of their belongings. Most of the men wore little more than gauzy loincloths with colored shorts or briefs beneath. The women were dressed in clingy short or long fairy gowns. They then passed through a curtain and entered the giant room decorated with living trees, plants, sweet scented flowers, several two-person hammocks and TONS of giant pillows. Great care went into making sure the hundreds of pillar candles lighting the room had stable bases or were set up in groups on low tables so they would not get knocked over, make a mess or start a fire. A dry ice machine blew mist through the air vents carried around the room by the gentle breeze created by fans hanging from the ceiling.

The actors and actresses we hired to play scantily clad fairy servants offered the guests finger foods from silver trays, a woodwind quartet wandered through the garden playing chamber music. Two tatoo artists enhanced the guests' magical appearance by painting temporary designs on their bodies. The videographer was also dressed up like a mischievous fairy, blending in perfectly so he could catch people in the act of... having fun. His camera was digital so we would have stills to put up on the website and to send to our guests.

Kevin was showing up after sunset with his girlfriend. They were going to play Oberon and Titania, the King and Queen of the Faries. After they had changed into their costumes they were carried in by four male fairy servants on a double sedan chair we rented from a movie prop house. The sedan chair was placed in the center of a circle of small artificial trees. They got out of the sedan chair and reclined on a pile of oversized pillows.

The servants were at the beck and call of both Oberon and Titania's all night, and Kevin seemed to especially enjoy this. His cup was never empty of the sweetest wine. It's good to be the King! Since there were no utensils allowed, the Queen hand fed him his birthday cake. It was inevitable that people began shedding their earthly cares (and inhibitions) as we all knew the party was going to last until dawn.

To amuse themselves (and the King and Queen) the fairies began playing games. It started with charades and went on to an impromptu performance of some scenes from the play. Kevin really got into his role. We were surprised he was able to recall so much of King Oberon's part from memory. Everyone had a great time.

As dawn approached, the fairies grew weary and one by one found a comfortable places to call thier our own, and slept for a few hours before returning to the mundane world.
Related Categories
Back