Ancient Rome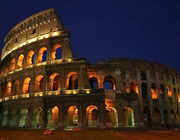 My friend Samantha was turning forty and wanted to throw a very creative party to celebrate. She wanted to have a theme that reflected her personality classic, yet a little decadent so she chose Ancient Rome.

The cover of the invitation had a close up of a handsom man in a white toga trimmed in purple and gold. He had his hands on his hips and a sly smile on his face, I think he was supposed to be Julius Caesar. Inside were the details of location, time, date and for the guests to dress as ancient Romans of any class.

I found an old white sheet in the closet, but I decided I wanted something better and went to the fabric store. I found a remnant of beautiful lavendar crepe and I bought some gold trim to sew on the bottom of the outfit. The night of the party I put my hair up and curled the pieces hanging down at my temples. I applied body glitter to my face and exposed flesh. I hoped I wasn't the only one wearing a costume, but I knew at least Samantha and I would be dressed up.

When I arrived at Samantha's all my fears were put to rest--everyone was dressed in Ancient Roman fashions. Samantha's husband, Peter was dressed as general Caesar. He looked really good in his red tunic and leather armor. It was already getting crowded when I got there so I could only see Samantha had covered her couches and chairs with white cloth and draped artificial ivy across the tops of the curtains and around the edge of the food table. Fake leaves had been sprayed with gold paint and scattered on the table. The decorations were minimal, but effective. Romans were dancing and talking, others were really getting into the theme. One guest was lounging on the couch and being fed grapes by two women dressed as slaves. A few
couples were making out another couch, and out on the porch. No one seemed to mind. When in Rome... I thought as I poured myself a cup of wine.

As well as food and drink, there were also games. Peter or "Caesar" as everyone called him, organized some wild games in the back yard. I was busy chatting with Brad, the sexy lawyer who works with Samantha so I wasn't interested until they started cheering and hollering so loud I thought Samantha's neighbors were bound to call the police. Brad and I went out to see what was going on and saw they were having human wheelbarrel races. One person held the legs of another while they ran on their hands across the yard and back. It was silly, but people were cheering the contestants on like it was a chariot race. After that came classical wrestling matches. The contestants were mostly men, but some women even got into the act. "Caesar" awarded gold wreathes to the victors. They looked like they were made from artificial ivy spray painted gold. Samantha's little brother, Phillip, took candid pictures of the races and wrestling with an instant camera. Later, he passed them around and some of the photos were barely decent.

After the games everyone came back inside to have some cake. It was decorated with a picture of the Coliseum. The cake was chocolate with mocha filling; very decadent. One of guests gave Samanta a custom gift basket with all kinds of scented bath items in it. The party continued until early morning. I decided to crash at Samantha and Peter's because I drank too much. It had been a long time since I had that much fun. Hail Caesar--and Samantha!

Related Categories
Back