1950s Hawaiian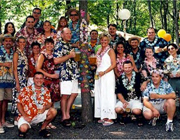 One year my sister and I were discussing where to take dad to for Father's day, I mentioned it would be nice to do something different than dinner at a restaurant. She asked me what I had in mind, but I had only a vague notion of getting the family together for a big party. She replied it sounded like fun, but also like a lot of work and that was the end of the topic.

A week later, my sister called again to tell me she had a great idea a Father's Day party. She had asked dad if money were no object what he would do for Father's day and he said he would take himself and the family to Hawaii. In interrupted at that point asking if she had lost her mind, but she went on. Of course, we could not afford to make dad's wish come true, but we could bring a little bit of the islands to him. Her idea was to create a 1950's Hawaiian party, but she needed a little help with planning and that was why she called me first.


Over the next week, Ellen and I contacted other relatives and friends asking if they wanted to include their dads in the party. Our guest list grew from seven to thirty-one in no time at all. Everyone was very enthusiastic and willing to help in any way they could.

Ellen and I decided our party had gotten too large to have at a house so we rented a catering hall. They would provide tables, RENT1:chairs] and white linen, but we would bring everything else. A list was made of what details needed completing and were divided up among the helpers.

On the cover of the invitations was a cartoon man wearing a Hawaiian print shirt, shorts, straw hat, sunglasses and sandals. He stood on a beach with a palm tree and ocean in the background. The caption above his head read, "Aloha Daddy-O". Inside was written, "This is your invitation to go back in time to 1950 and party Hawaiian style." Time, date and location were listed below. I was so excited about the party; I could hardly wait.

When Ellen, my dad and I arrived we saw two women in Polynesian costumes standing on either side of the entrance. They were placing silk flower leis around the necks of the guests as they went inside. The hall had been transformed into a vision of a tropical fantasy. A backdrop of a tropical beach hung on the back wall and was bordered by real plants lined up on the floor in front of the cloth mural. The table linens were bright floral prints and each white plate had a colorful linen napkin, folded into the shape of a Bird of Paradise flower on it. To one side was a small bar decorated like a grass hut, serving beer and wine.

At the front of the hall a band played music by the Beach Boys and an
Elvis impersonator wearing The King's costume from "Blue Hawaii", was already dancing with some of the guests.

A professionally catered buffet style dinner served pork ribs, white fish and chicken with pineapple and green peppers on skewers as the main dishes; fruit salad, tossed greens and mixed steamed vegetables for side dishes.

The band played songs by Don Ho and the Elvis impersonator crooned softer numbers during the meal. After dinner the Polynesian dancers put on a show and the party really began to change gear. The Elvis impersonator returned to the stage and the place really started rockin' to the oldies. Soon nearly everyone, regardless of age, was dancing and having a really good time.

After the party, on the way home dad said it was the best party he had been to in a while and it was also the best Father's day party ever.

Related Categories
Back