Brady Bunch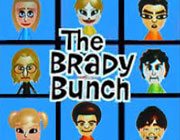 Not too long ago, I counted up the friends that spend most of my time with--there is Paul and Zoe, Corey and Susan, Matt and Jennifer and last but not least, Robbie and Megan. Counting myself, that is nine people. I had been trying to think of a fun thing to do for a dinner party when it hit me, there were the same number of us as there were in the Brady Bunch. Why not have a "Brady Bunch" party?

Planning a Brady Bunch party was so much fun. Since all of us are thirty-somethings, so we were practically raised by Carol and Mike Brady. First I decided who was each character. I chose Alice because I planned to do all the cooking. My husband would play Sam, the butcher and could take take photos of the evening so I wouldn't have to hire a photographer.

I sent out invitations to each of my friends. They looked like invitations to a Brady family reunion. A few of them called to ask about the party, but everyone sounded enthusiastic. Only Megan called to ask if I had gone crazy, but that's why she loves me so much.

On the day of the party I spent most of time before the guests arrived in the kitchen. I wore the same sky blue dress and a white apron Alice wore on the show and cooked an all American meal -- roast beef, mashed potatoes, corn and salad with vinaigrette dressing. The guests were due to arrive soon, but I wasn't too worried about finishing the cooking on time, because I could ask "Jan" and "Cindy" to set the table. Part of the fun was everyone playing their characters to the hilt.

When the guests arrived, I sent them out to the back yard to have fun on the Moonbounce, while I finished dinner. When I said it I knew they didn't believe there really was one out there, but I had rented one especially for the party. Pretty soon, they were taking turns bouncing on it. They even called me out of the house to join in the fun.

Before too long, the girls and I went back into the house while the boys played catch with a football. Just before I went inside I called out a warning to "Marsha" to stay out of the way.

Everyone enjoyed dinner and started really getting into character. "Carol" asked "Mr. Brady" if the girls could have just a sip of wine on this special occasion. The girls chimed in with, "Oh, please couldn't we just this once?"

"Alright, just this once now. To be fair, I'll you boys can have some too." "Mr Brady" said.

Everyone gathered in the living room to played a game that "Sam" and I had thought up. The object was to identify as many Brady Bunch episodes as you could in 30 seconds. The play moved around in a circle. It didn't matter if you knew the title of the episode, just a good portion of the plot so "Sam" could look it up in the Brady Bunch episode guide he had picked up at the bookstore. Everyone was really surprised at how many episodes we remembered.

Robby, or should I say "Bobby Brady" took a family portrait of everyone with his digital camera. Later, he and "Sam" loaded the digital photo into my computer so I could email everyone a copy.

After the family portrait, I put on some 70's disco music and everyone danced under a rented disco ball hanging from the living room ceiling. I saw some of the guests breaking character by getting a little too familiar with their "siblings".

When everyone was tired of dancing, we all sat down to watch "Brady Bunch: the Movie".
After the movie, everyone had one last bounce on the trampoline before going home. Everyone had such a great time and agreed it was a fun party.
Related Categories
Back