Box Supper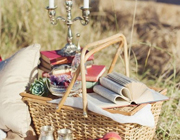 A way to meet people, Couples Fundraiser
Event Types
Adult, Halloween, New Year's, Dinner Party,
Age Groups
Networking group, single mixers,
Setup
Need a mic for the auctioneer if it's a large crowd. tables and chairs around a dance floor.
Decor
Outdoor paper lanterns hanging, balloons, streamers.
Dress code
Casual
Music
Recorded or live music (preferably 40's - 50's).
Food/Drinks
(picnic in a box can be lunch or Dinner)
Tips
Women prepare a picnic in a box. Box is decorated but anonymous. Men bid money on a boxed meal in an auction. The auctioneer lavishly describes contents in the box but NOT who made it. Highest bidder wins the meal and eats it with the woman who made it. take place in a park or yard. Take home a phone number.
Related Categories
Back