Caribbean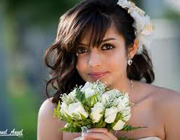 Traditionally, our family has celebrated Quinceañeras with frilly formal dresses and a ballroom dance. My oldest girl, Theresa, asked if she could do something different that was more her style. I told I didn't mid as long as the party was still a "coming out" party, so she could show her friends and relatives she was a woman and was ready to enter the social world. Theresa's idea was very clever and just as successful.

Theresa wanted a Caribbean theme for her Quinceañera celebration. The fist thing we did was find
invitations with a tropical theme and sent them to all the guests.

The party was at the community swimming pool from 5:30 until 10:30 p.m., when the pool closed. Everyone was instructed to wear swim suits under brightly colored, Caribbean dresses, or trousers and shirts.

The pool manager reserved two of the grills and several picnic tables for us on the lawn just outside the pool area. We strung lights through the trees and decorated the tables with centerpieces made from Caribbean Islander masks and silk tropical flowers we found at the party store. We hired a photographer and a to play at Theresa's party, as well.

I asked a Puerto Rican friend for help planing the party menu. She gave me a few marinade recipes for beef, pork, or chicken. She showed me how to grill plantains, husk coconuts and pick out a ripe pineapple at the grocery store. The cake I ordered from the bakery was chocolate, of course, but the top was decorated like a Caribbean island.

Theresa and I went to the mall to buy her dress, but she fell in love with some beautiful flower print cotton at the fabric store so I bought three yards and made her a full skirt and halter top.

Everyone enjoyed dancing to the music of the Caribbean steel drum band we hired.
Theresa has never been shy and she must have danced with everyone of the boys she invited at least once. After Theresa broke the ice with the first dance, all the boys started asking the girls to dance. I made sure the photographer got a picture of Theresa and her father on the dance floor.

Dinner was very delicious. There was lots of food. There was a delicious punch made from pineapple juice, ginger ale and rainbow sherbert for everyone and wine for the adults.

I served cake after dinner while everyone watched Theresa open her gifts. After that most of the guests spent the remainer of the party in the pool relaxing or playing games.

When the pool closed at 10:30 it was mostly our family so we celebrated a little more with some guitar music and some sparklers.

I'm glad Theresa had such a great time at her Quinceanera, but a week ago she told me she had a dream she had another Caribbean party on her eighteenth birthday in Puerto Rico!
Related Categories
Back