Cartoons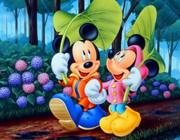 My daughter, Sarah, just turned one so Larry and I had the most fantastic birthday party for her. I'd like to tell you all about it.

As you all know the first birthday party is more for the parents than for the child, but I wanted to make sure Sarah had as much fun as we did. What does Sarah love more than her teddy bear? Cartoons.

The first part of the mission was the invitations. We sent out a video tape with Sarah sitting in front of stuffed animals of her favorite characters, Bugs Bunny, Daffy Duck, Donald Duck and Mickey Mouse. Okay, I know the invitation was more entertaining for the parents, but we wanted to splurge a little. Then with cartoon captions, on a sign made out of poster board, Sarah told the parents and their child to come over on Saturday at noon. She asked that they RSVP and to tell their moms what their favorite cartoon character was and to bring their high chairs.

On the day of the party and our house was completly decorated from head to toe with cardboard cut-outs of Bugs Bunny, Daffy, Donald, Mickey and Minney Mouse, cottages, trees, flowers, you name it, it was there. It was like walking into a Looney Toons cartoon. We got the cartoon character cut-outs from my cousin who works at a video store. She let us borrow them for the day. The trees and flowers I made myself with poster board. Sarah was ecstatic, we had plush toy cartoon characters as well, which Sarah would point and giggle at all day.

When the guests arrived, they walked their babies by the cut-out characters. Then, we put the babies in their highchairs around the dining room table. The table had a Looney Tunes tablecloth with plates and napkins to match. Our two TV's were playing Sarah's favorite cartoons. The babies were all ready for lunch.

I put food coloring in the baby food and swirled them together. They loved playing with the food, more than they loved eating it, but everyone was having a great time. The parents had hot dogs and hamburgers grilled by Larry on the backyard barbecue. There was plenty to drink for the grown-ups, beer, wine and coke. And there were big bowls of fruit punch and grape juice to add to the colorful scheme.

Next came the cake. The frosting was the same swirling effect as the baby food, but inside was even more incredible. It was a six-layer cake with each layer a different color of the rainbow. The colors were so vibrant and beautiful we almost didn't want to eat it, but of course we did and it was delicious. Larry took a picture of the cake after it was cut so that we could remember it after it was all gone.

After lunch a few live characters arrived, including Daffy Duck who made balloon
animals for all the kids. At first Sarah was a little scared at Daffy's size, but when Daffy started to tickle her she completely warmed to him. She would cry anytime he'd leave her side so he stayed with her during the entire party.

Donald Duck and Bugs Bunny played around for the kids in the living room, making them all laugh, including the parents. Bugs did a handstand and his head almost fell off, which made all the parents laugh. The kids laughed when he tried to grab his head while still in a handstand and fell over.

A Photographer, dressed as Yosemite Sam, took Pictures of all the babies with their favorite character and even some of the parents. Each of Sarah's friends got to take home a plush toy of their favorite cartoon character. A few weeks later we had the pictures
framed with cartoon frames we found at Target. We sent them to all the guests.

Sarah had a little trouble saying good-bye to Daffy at the end of the day, but her two-foot plush toy version of him at the foot of her crib made her first birthday party a happy success.
Related Categories
Back