Circus Circus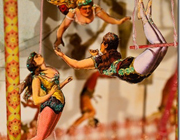 A circus party may have many rides, shows; such as singers or bands. It may also have other entertainment such as temporary tattoos, carving, crafts, face painting, candy, palm and card reading, game arcades. In some occasions a Petting Zoo may be part of the entertainment.
Event Types
"Adults or children Bar/bat mitzvah Anniversary Engagement Corporate event "
Age Groups
Festivals, Fund Raisers, Birthday Parties, School Events, Corporate Events, Bar/bat mitzvah.
Setup
"Booths for games and for food. Bumper cars, go karts on a track, Ferris wheel, arcades, games. "
Decor
"Outside: Tents Circular areas marked out Seats for audiences Triangular flags delineating each area First aid booth "Tunnel of Love" Fenced area for animals "
Dress code
Casual
Music
Live Performers, Calliope music, diverse band, dance performances.
Food/Drinks
"Food booths: Hot dogs, hamburgers, snow cones, cotton candy, candied apples, Taffy, popcorn, pronto pups, Drinks: liquor, sodas "
Tips
"Adults: Booths/games Bumper cars/go karts on a track Performance area for clowns, magicians, acrobats, animal acts, etc. Children: All the above plus: trampoline, skating ramp, jumping booth, sw. pool, games, petting zoo, dog parade, clown make-up booth, hay wagon, horse or elephant rides, Sports/Games for spectators and participants. Each guest gets his card stamped for each event he participates in Photographer/Videographer at each location. Take home stamped participation cards and/or game prizes "
Related Categories
Back