Easter Parade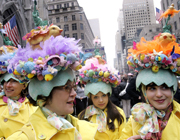 Dress up dresses in pastel colors with low or high heels or elegant blouses and skirts.
Event Types
Adult, Corporate Event, Christmas, Valentine's Day, Prom
Age Groups
Adult, Corporate Event, Christmas, Valentine's Day, Prom
Setup
Waiters/table service white linens china, dinnerware, assigned seating. Drape the table in pastel-colored table cloth like yellow, pink, light green or blue.
Decor
Garden with patio tables and "hat umbrellas. Streamers, balloons, flowers on tables, lights if at night. Greet guest with bunny decorations. Easter eggs around the room and on tables.
Dress code
Dress in pastel colors in skirts or dresses, men should wear a suit.
Music
background music: "Easter Parade", "A pretty Girl is Like a Melody", Doris Day ex. or soft rock.
Food/Drinks
Food and Drink: High tea or luncheon small sandwiches, salads, desserts, lemonade, tea, sodas.
Tips
a variety of hats and small parasols are displayed on tables or hanging on) Girls may chose any hat and parasol or bring own. After lunch girls parade around the room one at a time as they are called. Inside or Garden Party: Hall/restaurant or backyard. Give prize to most sixteen .
Related Categories
Back