Golf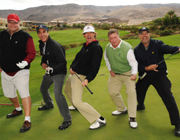 When my older brother, Sam, finally got married I decided to throw him a bachelor party that was befitting an older, more mature kind of guy. He didn't want to go to strip clubs or get drop dead drunk, so I planned an event centered around his favorite hobby – golf.

My brother is kind of a formal guy so I sent invitations to ten of his close friends, our dad, and his future father-in-law. I asked my wife for some help with the invites and she went to a stationary store and bought some lime green paper with a golf club in the corner. We brainstormed together on some golf lingo and put together an invitation that included phrases like A little birdie told me, join us for some tee time, there will be some fore play and Sam and Julie have been on par… I think you get the idea. The party was scheduled for a Saturday and would take up most of the day.

I reserved a two o'clock tee time at the local country club where my dad plays and got there early to set up a few things. This was a bachelor party and I wanted to mess with my brother a little bit. The club has a restaurant that I planned on us visiting for dinner after we golfed. They have a small private room and I was able to go in early to set up. There was a long rectangular table set with a nice white tablecloth. At each place setting I put a golf ball with each person's name written on it (courtesy of my wife). I put a couple of tin cups filled with golf ball bubble gum in the center of the table, and I placed a few golf magazines there too. These weren't your normal golf magazines, though. I carefully took the covers off of some and stapled them over some Playboy magazines so that the guys and Sam would get a surprise when they opened them. And lastly, I set up a putting machine in the corner so that we could have a little friendly putting competition. My dad sprung for a new golf club for each guy, and I lined them up along the wall. Satisfied with the room, I headed to the lobby to meet the group.

My brother and dad arrived together and Sam was thrilled to spend the day with his buddies doing what he loves. When the rest of the guys arrived we jumped into golf carts and headed to the first hole. It was a great day, warm and sunny, without a cloud in the sky. We brought along a cooler of sodas and water and listened as the married guys told stories from their own bachelor parties. Even my dad got in the mood, reminiscing about the days when he was young and dating my mom. It was exactly the kind of day my brother enjoys: good conversation playing a sport he loves. He had some stiff competition from a few of the guys but in the end his golf game was right on and he beat all of us.

The 18 holes took awhile to play and when we finished the sun was going down. We returned the carts and made our way to the restaurant for dinner. My brother was touched by the details of the room (especially the magazines) and we all took our seats. Pitchers of beer were brought in and appetizers that included beef kabobs, buffalo chicken wings, and fried calamari were served.

One of the guys noticed the putting machine and got out of his seat to try his luck. Within minutes, we were all up giving it a try. My dad handed out the clubs and he and I thanked everyone for coming. I handed out some scorecards to keep track of the puts and asked the guys if they wanted to contribute ten dollars to a pot that the winner would get to take home. We were all in and by a series of eliminations, a winner was declared.

We returned to the table for dinner – filet mignon, baked potatoes and vegetables. It was delicious. Then, as is customary (or was, Sam is a little old fashioned so I thought he'd enjoy it), we roasted my brother. Each guy stood up and told a story about the groom, "roasting" him by sharing the most embarrassing or stupid thing they could remember him doing. There were a lot of great stories and plenty of laughs. Everyone ended their 'roast" with a gratitude of thanks, saying my brother had been a great friend. It was especially meaningful when Sam's future father-in-law spoke, saying how happy he was to welcome him into his family.

My brother stood last and thanked everyone for making one of his last days as a bachelor so memorable. He couldn't have asked for a better way to spend the day and I could tell by the look on his face, he really was pleased with the day. We all raised our glasses, toasted my brother and his future bride, and called it a night.
Related Categories
Back