Honeymoon in Maui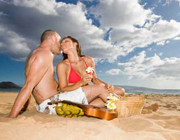 I just returned from the most glorious honeymoon. It was everything my husband Vince, and I imagined it would be and more. When we talked about where we wanted to honeymoon after our wedding, we agreed immediately on Hawaii. We both had never been and a tropical setting was what we desired. Picking an island proved to be a little more daunting. The big island had luxury hotels, volcanoes and incredible island tours. Kaui offered a quieter and more relaxing atmosphere. Oahu seemed a combination of both. But, finally, we settled on Maui and were we glad we did.

We arrived at our hotel on Kaanapali Beach and were immediately swept away by the oceanfront site. We forgot our phone number, our neighbors, the little things that went wrong at the wedding, and became completely consumed by the spectacular setting. We left our bags with the concierge and went for a tour of the hotel and a drink at the bar. There were waterfalls, ponds, beautiful foliage and flowers, restaurants and lounges, unique shops, and a comfortable pool-side bar. We sat and had our first of many tropical drinks, and admired the immense body of water known as the swimming pool. Within minutes, we knew what we had to do. We quickly checked in to our room and put on our bathing suits.

The warm pool water sent a rush through our bodies and we immediately embraced. Our eyes caught sight of a tall cascading waterfall just a short swim away so we hurried over. Hidden behind its arch, we continued our hug. With our bodies intertwined, our lips met and our mouths parted so that we could taste each other. I felt Vince's manliness growing and an urge of my own grew. Dare we? I'll never tell, so I'll leave that to your imagination.

The first couple of days on Maui were spent relaxing by the pool, laying on the beach and trying every drink on the drink menu. Our bodies were always touching and we so enjoyed the carefree days. But it was our first time to Maui and we wanted to partake in some activities.

On our fourth day on the island we joined a small guided group and took a full-day waterfalls and rainforest hike in the Kipahula Valley. It was magnificent! I had never seen mountains so green. It was a 4.5 mile hike that included views of streams, cascading waterfalls and huge tropical plants and trees. It was a bit humid but I didn't mind. I thought Vince looked sexy with a wet shirt. And I know he liked the way my shirt clung to my body. The guides supplied a delicious lunch. We sat down on rocks and ate turkey sandwiches and an abundance of fruit that included bananas, pineapple and papaya. I felt one with nature - especially when I had to go to the bathroom. A guide pointed me in the direction of a large bush when I asked if there was a restroom near by. My husband got a good laugh as I reluctantly made my way. The best part of the day was getting to swim through vertical canyons to hidden waterfalls. We spread out a bit and Vince and I found our own little private waterfall. Again we swam behind it and well, we really like these waterfalls.

The next day we decided to take a boat trip to Molokini to go snorkeling. Actually, it wasn't a boat, but a glass bottom catamaran. It was a 4-hour cruise with most of the time being spent at Molokini, a tiny little island out in the middle of the ocean. We were given some brief snorkeling instructions and left to enjoy the crystal clear water. We were amazed by all the colorful fish and even caught a glimpse of a small shark near the bottom. The tour guides had a name for him, Bruce, and said he was a local. The catamaran also had a water slide and two spacious decks for soaking up the sunshine. There was an open bar and snacks and all in all it was a great adventure.

The next couple of days were spent relaxing, shopping in Lahaina - Hawaii's historic whaling capital – and sitting on our ocean view balcony reading and watching the sun set. We signed up for one last excursion and set the clock alarm for 2 a.m. Let me explain…

We decided to go on a sunrise Haleakala bike tour. Haleakala is Maui's dormant volcano and the tour included a drive up to the top to see the sun rise and then a 38 mile descent on state-of-the-art chrome cruisers (picture a chunky, padded bike.) It was suggested we dress warmly (the average temperature at the top is 20-40 degrees) even though the tour company provided windbreaker pants and jackets, gloves and helmets. There were ten of us on the trip and although we weren't quite awake on the trip up, everyone was friendly and talkative. The view from the top was amazing. As the sun rose, we could even see the big Island of Hawaii. The bike ride down was exhilarating and we ended in a quaint town called Paia. There was a bakery there with the most delicious muffins and cookies I have ever tasted. When we arrived back at our hotel, we headed for the pool and a nap.

We were told you can't leave Hawaii without attending a luau, so on our last night we did just that. The food was yummy, the show entertaining and best of all, the music forever etched in our minds. Maui was romantic, adventurous, relaxing, and truly a piece of paradise. We vowed to return for our 5-year anniversary.

Related Categories
Back