Space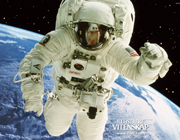 This summer, boyfriend, Mark, turned eighteen. He was going off to college in another state. He had never been even to the big city so I decided to throw him a birthday party with the most outrageous theme I could think of: Outer Space. Mark thought it was a great idea.

Mark emailed all our friends an animated invitation a week before the party. A little alien in a space suit walked across the computer screen then held up a big sign with alien writing on it. Beneath the squiggly lines was the party information. Everyone the invitation was great.

Mark and I met the DJ at the large banquet hall we rented at a local bowling alley. We hung sheets of plastic in the doorway between the hallway and the banquet hall so you had to walk through them to get inside or outside thehallway. The small dry ice smoke machine the DJ brought was set on a little lip above the door and blew cold steam on anyone who passed beneath.

We rented some set decorations from a prop rental house to make the hall look like a moon scape. Stars were projected on the ceiling by a specialized projector. Laser light, was synchronized to the new age space music, and flashed around the room like red and green neon. Colored strobe lights hung from the ceiling, over the dance floor making everything look even more strange.

Mark's friend had made a dozen strange shaped lamps out of small battery powered lamps to put on the tables. Black table cloths had been spattered and painted with glow in the dark paint and could be seen best if the light on the table was off. Sheets of black cloth were hung to create a few dark and secluded spaces. I planned to lure Mark into one later on.

Mark and I had a ball taking edible ingredients and adding dye, grape juice or mixing foods to create tasty, but alien looking food of every description. The eating utensils and cups were temperature sensitive, colored plastic.

Between the curtains of black cloth we hung sheets of plastic we had glued gummy aliens and worms; chocolate pretzels and coins; sheets of fruit leather onto it with confectioners cement. We planned to freak out our friends by looking as if we were eating the decorations off the walls. As soon as they figured out not everything was what it seemed to be, they would probably start trying to eat just about everything.

Guests started arriving and I could tell by the looks on their faces they were amazed by what they saw. The D.J. was incredible! There were some people in regular clothes, but most had come in costume. Between songs the DJ used synthesizers to create strange sounds from space rockets to the cries of alien beasts. He was the best party DJ I have ever heard.

Due to the darkness and special lighting effects, I knew it was going to be hard to get any really good pictures to remember the evening by, so I made this awesome picture for Mark at the spin art table with glow in the dark paint; it looked great under the black light.

Black Holes were a big success. Even some of the parents dissappeared into them. The "Incredibly edible" wall was a riot as well. Everyone danced and partied until early in the morning. It was the most awesome 18th birthday party ever!
Related Categories
Back