The Pirates of Pismo Beach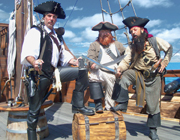 One greatest things about a bachelor party is making sure that it's really private and exclusive like a one night membership at a men's club. My brother Scott, chartered a yacht so we could really "do our own thing" uninterrupted!

Our yacht left Pismo Beach in the early afternoon with eight guys and a female stripper all of us chipped in to hire for Scott.

We had everything we needed for the evening -- CDs, lots of foreign and domestic wine and barbecued beef sandwiches, submarine sandwiches , hot dogs, potato salad, baked beans from a local deli as well as chips, dip, salsa and spicy peppers.

The party was on as soon as we were a mile from shore. The stripper started her music and started peeling off her costume for us and eventually was wearing nothing but a g-string. Everyone was drinking and having a good time.

We had no idea our girlfriends had planned a surprise of their own and had chartered a speed boat. They all wore bikinis and pirate hats and a flew a jolly roger flag. They had picked up some cream puffs and eclairs from the bakery, a blindfold and some silk rope. They had a good idea of where to find us, but it turned out to be a little harder than they thought and as the sun was setting some of them were getting scared. Just as they were thinking about returning to shore, my girlfriend Sandy, spotted our yacht through her binoculars.

First they showed off by circling the yacht twice in their speed boat then pulled up beside us announcing they were "The Pirates of Pismo Beach" and they were boarding us. Well, we didn't know whether we were happy or disappointed by their arrival, but we knew they had a plan in mind!

Sandy switched on the boom box and the soundtrack of, "Treasure Island" started playing. The Captain took video of all the action as the girls climbed aboard, captured the groom to be and tied him in one of the swivle chairs. The blindfolded him and threatened to smash cream puffs and eclairs in his face until we knelt and begged their forgiveness for partying without them. Some of us refused just so we could see Scott take a cream puff in the face. What a mess! It was hilarious! Even the stripper was laughing. Eventually we all gave in to their demands, Scott was freed and everyone partied together on the yacht.

Two months later, everyone got together to watch the video of the "Pirates of Pismo Beach" capturing our yacht, tying Scott up and smashing a cream puff in his face. It was such a blast!

Related Categories
Back