Wild West 4th of July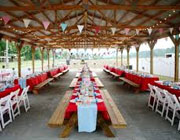 The firm I work for was small, but growing and our CEO thought it was time to celebrate with our first company picnic. He asked the personal assistants of the company officers to come up with a theme he liked and then the party planning would begin.

The four of us discussed ideas, but no one could decide on one theme so we submitted our ideas separately. My idea was to take our guests back to a time when America was still young. I called the theme Wild West 4th of July. As it turned out, the CEO liked it too.

The first thing we had to do was find a location. After combing the internet I found a ranch that rented out a group of buildings on the property once used as a movie set. It was perfect setting. At first we thought of hiring a caterer, bands and entertainers individually, but it was Camille who suggested hiring a coordinator specializing in events. We spoke to several before finding a quote that offered what we wanted and was within our budget. I can't tell you how much easier the event coordinator made the planning. I know we would have spent a lot more time and probably more money doing the job ourselves. The event coordinator even handled such details that we may have overlooked, such as parking, renting porta-potties and cleaning up the site after the party. The more I heard about the plans the more I was looking forward to the 4th.

Dory made up a flyer to hang around the offices. It was printed on cream-colored paper giving it an old-fashioned look. The flyer announced our first annual company picnic, the theme, time, date and place as well as who to contact for more information.

An Abraham Lincoln look-alike greeted my husband and I when we arrived at the ranch. The western style buildings were decorated with red white and blue bunting. We also saw a John Wayne look-alike, driving a stagecoach down the street waving to the guests while we were in line for the buffet style BBQ.

The picnic tables had red and white checkered tablecloths with western themed centerpieces on them. The food was fantastic—beef ribs, chicken breasts, barbequed beans, corn on the cob, coleslaw and potato salad. There was apple or cherry cobbler with ice cream for dessert, but I was too stuffed. A bluegrass band played old time music on a portable stage near the picnic tables.

After lunch a loudspeaker announced a wild west show was starting in the large arena behind the buildings. Professional stunt men recreated the famous shoot out at the OK corral. This was followed by a demonstration explaining the origins of such rodeo events as bronc riding, steer wrestling and roping. If this were not enough there was also hayrides, stagecoach rides guided horseback trail rides, a petting zoo, face painting and carnival games.

After dark we all gathered in the arena bleachers to watch a professional fireworks display with patriotic music. It was the perfect ending to a perfect picnic. As my husband and I went to our car he told me he had a great time and was glad I worked for a company still cool enough to put on a fantastic party.

Related Categories
Back