Austin Powers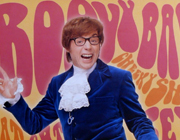 My little brother, Jack was turning eighteen and wanted to throw a party, but he had no idea what to do. I suggested something really with-it, hip and fun: A Psychedelic 60's "Austin Powers party. Jack told me the idea was "Smashing, baby".

We made our own invitations using a digital camera and a home computer. Jack dressed up as Austin Powers and we cropped the image and put it on a psychedelic background. Over his head were the words, "Groovy, baby!" Inside were the details including instructions to: "Wear your craziest, most psychedelicious, most shagadellic 60's outfit you can find and be at my groovy pad on to celebrate my eighteenth birthday." Below was a map and directions to my apartment.

The afternoon of the party we moved some of the furniture in my apartment around to make room for the bean bags chairs, and tacky lamps Jack and I had picked up from thrift stores and garage sales a few weeks before. We rented a black light and splashed some remnants we picked up at the fabric store with glow in the dark paint. Once the glow in the dark paint was dry we hung them on the walls and hung fluorescent yellow and pink streamers from the ceiling. We got a bunch of helium balloons in florescent colors and painted faces, sixties slogans and peace symbols on them with glow in the dark paint. Every doorway was hung with strings of beads I bought at the craft store.

Jack and I had just gotten changed into our costumes when people started arriving. They were dressed in the most outrageous 60 outfits. It was like we had gone back in time Every one liked Jack's costume. It was an outrageous suit of red velvet with a powder blue frilly shirt. He really was getting into his role and ran around the apartment, saying things like, "Do I make you horny?" and "Smashing, baby!" I had created a monster and was getting afraid one of the girls would throw a drink on him so I whacked him with a pillow and said, " "Oh, behave!"

We had five of the TV's hooked up to one VCR, all playing spy movies and "Austin Powers" on repeat. The DJ I hired brought mini-disco lights which added to the psychadelic scene even further. I . I was dressed in Go-Go boots and a mini-skirt. I felt a little self concious, but I got a lot of looks from some of the boys. I saw Rebecca, the girl Jack had been drooling over all year. She came in dressed like Vanessa and naturally they paired up. Everyone was grooving to 60's music. Flower child girls were hooking up with cool cat swingers; everyone was having a great time.

One of the guests brought a camera and captured the crazy costumes and crazier dance moves. She kept sneaking between people and snapping candid shots. Some of the guests had left the dance floor and were sitting on the couches and bean bags talking or making out. I asked her later to get triple prints and I'd pay her back the difference.

I was glad I had decided I not to allow alcohol, but there was plenty of sodas and exotic fruit juice mixes we put together in the kitchen: Bright green lime juices, fluorescent orange daiquiris and anything as long as it had a bright color. There were plenty of finger foods of all kinds as well as loads of junk food--pop corn, chips and candies.

I had a great time and Jack had a shagadellic time. Jack told me all his friends thought I was a real cool sister to give my little brother such a great party. I can't think of a better way to tell Jack, " Welcome to adulthood'.
Related Categories
Back