Hawaii Trip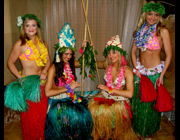 Ever since we were married, Calvin and I have always wanted to go to the tropical paradise of Hawaii. In celebration of our thirty-fifth wedding anniversary we decided we were going to finally do it.

Calvin started looking around for packaged deals in the off season and found a site of a destination wedding specialist. I jokingly asked him if he had forgotten we were already married. Then he showed me the packages for vow renewals. They were very resonable and included the minister, the ceremony, flowers and photos. Calvin spoke to the coordinator and she was also able to get a better price on our five day hotel stay through her which was great because we are on a budget. The coordinator also assured us Hawaii's off-season was very nice and we would be gone long before monsoon season.

Calvin contacted a travel agent who found us some bargain priced air fare to the main island for our vow renewal. From there, we could take a small plane, helicopter, or a boat to any of the other six islands.

The morning of our vow renewal I wore a beautiful cream colored pant suit and he wore a beige colored polo shirt with khaki pants. We met the coordinator at a little photo hut on the beach. She led us to the secluded waterfall where the minister would perform our ceremony. My bouquet was made with orchids, ferns and pale pink hybiscus. The trail rose and wound through a verdant tropical forest coming to a little clearing. A beautiful cascade of water tumbled down a lava rock wall covered in ferns, moss and climbing orchids. It was like paradise.

The minister performed our ceremony and the photographer took some candid as well as posed pictures during as well as after the ceremony. After the ceremony Calvin and I cut the small cake and toasted the occassion with some Champagne. Then we were off to enjoy our second honeymoon.

We had already decided on taking a sightseeing cruise around the island. The boat ride was very relaxing and so beautiful. We could see marine life in the nearly crystal clear, blue water through the glass bottom of the boat. There were only a few other people on board so it made it all the more romantic. We could hear water lapping against the boat and the low hum of the engine as we held hands and watched the beautiful fish below. I took some pictures of the boat and asked one of the deck hands to take a picture of Calvin and I.

The hotel bungalow was about a hundred yards from the water, nestled inside a grove of palm trees and bushes. Only wooden walkways connected the bungalows to each other and the main building. We had space to ourselves. Privacy! The bungalow itself was two rooms -- a bedroom with a king sized bed and a main sitting room. A balcony overlooked the beach. There were no phones, only a button with an intercom. On the table in the main room was a brochure describing everything you could possibly see or do around Hawaii and the other islands. We spent the rest of the day relaxing in our bungalow and by the pool at the main hotel building, sipping wine and exotic tropical drinks. The next day, the exploring would begin.

The next day we tried things we'd never thought we would ever do. We went scuba diving. Then, I tried parasailing, but didn't do very well. Calvin tried wind surfing. I thought he looked so silly trying to stay on the board. He told me it was a lot harder than it looked. We visited the active volcanoe and felt the steam from cooling lava flows. I took lots of pictures of our adventures.We spent a whole day at some of the markets on the big island and bought lots of hand made statues, masks and jewelry from the Hawaiians on the smaller islands. Every day, there was something new and different to see. I didn't think five days would be enough time to see it all. More than once Calvin and I said we would have to come back and to do and see all the things we didn't have time to on this trip

Each night, we ate in the hotel restaurant and a band played Polynesian music. One night the hotel held a luau. It was incredible! They roasted a whole pig in a hole in the ground. At first I was skeptical about eating something that had been buried in the sand, but wow, was it good! The hula dancers were so graceful. Calvin leaned over and said, "You should learn that." Funny, I did want to get up and try it! He talked me into buying a grass skirt and taking lessons on the last full day we were there. There's no telling how long I'll keep going with it.

We ate delicous food, saw incredible natural wonders and learned so much about an ancient and beautiful culture. I definitely want to go back. We brought gifts for the kids and grandkids. For us, we brought back countless, wonderful memories of our thirty-fifth wedding anniversary I will treasure forever.
Related Categories
Back