Manhattan by Moonlight Junior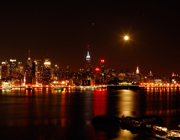 My junior year in high school I was looking forward to attending the prom with my boyfriend. I was hoping he would not wait until the last minute to ask me so I would have plenty of time to find a fantastic dress. The theme sounded very romantic, "Manhattan by Moonlight".

Mark finally got up the courage to ask me to the prom on the Friday. I still had two weeks to find the perfect dress. I was so excited. Many of my friends were going so we made arrangements for a group of us to share a limousine. I could hardly wait for prom night.

That Saturday my girlfriends and planned on searching every department store, formal wear shop and bride boutique until everyone had found the perfect prom dress. I wanted something sophisticated, but not stuffy; sexy, but not trashy and elegant, but not overpriced. Everyone had already found great dresses by lunch time, but I was still looking. I was beginning to give up and thought I would have to settle for one of the others I looked at, when I found just what I was looking for in a designer outlet store. It was sophisticated, sexy, elegant and reasonably priced.

The afternoon before the prom I went to the beauty salon for a special hairstyle and application of make-up. One look in the mirror was all it took for me to know Mark's eyes were going to pop out of their sockets when he saw me tonight.

I was putting on my earrings when Mark arrived. He was talking to my dad when I came down stairs and both of them stood as I made my way down. I knew they were both impressed by what they saw. Mark handed me a little white box. Inside was a beautiful orchid corsage. I think Mark was a little nervous. He had trouble pinning the corsage to my dress with my dad watching him. My mom took a photo of us before we left. I took Mark's arm and he led me to the black limo parked beside the curb. He stopped and turned me to face him, "You really look beautiful." He said, and gave me a kiss.

The limo made three more stops to pick up the other couples then we headed to the hotel. Everyone was very excited and it seemed like only a few minutes before we had arrived. Each girl's date helped her out of the limo and we all walked, arm in arm, into the hotel and to the banquet room.

Above the banquet room door was a banner that read, "Manhattan by Moonlight" in black letters outlined in silver. Every table was covered in black linen and was set with white china with silver edges. On the wall behind the stage was a backdrop of a silhouetted cityscape with a full moon hanging overhead. Lamppost and bench props were place between real trees and plants against the back wall of the room.

Dinner was a choice of chicken, prime rib or baked fish with rice, potatoes au gratin or steamed vegetables. I chose the fish and it was delicious. During dinner the DJ set up and began playing some soft music. A waiter brought a tray of desserts to each table for us to choose from. There were cheesecakes, custards, ladyfingers, German chocolate cake, éclairs and cream puffs; it was so hard to decide! After dessert I was so stuffed I though I wouldn't be able to move, but once the music started up Mark and I hit the dance floor. Mark and I mostly danced to fast songs, but we also went out on the floor swaying to some slow songs. The DJ was really good and everyone had a great time.

Mark and I had our picture taken by professional photographer as a memento of the wonderful evening. His set was a carriage with a backdrop of a moonlit park behind it.

Midnight came so quickly we couldn't believe it. A few of the couples had a gotten room at the hotel and were planning to party until dawn, but I knew my parents would have a fit if I wasn't home before 1AM so Mark and I left.

When the limo pulled up in front of my house Mark and I could see the full moon out the window. The lawn and roof shingles looked silver in its light; it was so romantic. Our eyes met and we kissed for a while before he walked me to the door and said good night. I hope the senior prom is even more fun as this one was.




Related Categories
Back