Mystery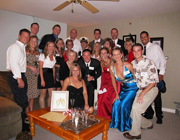 My friend Rhonda and her boyfriend, Steve, threw an incredible dinner party!

When my invitation arrived it contained two secret envelopes addressed to my husband and me. Each one had our name and the words "For your eyes only" written across it. I made sure to open mine where no one else could see. Inside was an invitation to attend a Murder Mystery Dinner and that I would be one of the suspects! It gave me the name of the character I was going to play, suggested what to wear and also had several details and clues regarding who I was and my relationship to the other characters.

When we walked in the door Rhonda greeted us and everyone was given a nametag, additional costume items and props, such as a piece of electric wire, a love note and a torn photograph. Some of the couples we knew, but some we didn't. We said hello to David and Judy, Alicia and Bob, Susan and Tim who introduced us to Terry and Alex and Lisa and Matt. Everyone would be working together to solve the mysterious disappearance of another party guest. Rhonda and Steve would help guide the evening's events. First we all sat down to at a sumptuous dinner table, with delicious food and a marvelous Zinfandel.

After dinner, our characters begin to question eachother and the clues started to come out. Everyone was soon searching high and low to either find out who the murderer was or prove their innocence.

Steve followed several of us with a instant camera and took Polaroid pictures of them looking for clues. After about an hour Steve called everyone back into the dining room to make their accusations. Everyone had slightly different answers, but my husband was the one who got it right and received a goofy prize, which sits proudly on his desk along with a photo of him studying a clue.

I can't remember the last time I had such a great time! I can't wait for their next dinner party, Rhonda told me next time she is going to hire a Professional Company to entertain us with a Murder Mystery Show and instead of being all the characters, we would get to be the detectives.

I'm planning our own holiday party this year, which is definitely going to include a mystery murder.
Related Categories
Back